Sprout: The Des Moines Urban Youth Learning Garden at Drake University is located at 30th Street and Carpenter Avenue, near Drake West Village. Sprout serves as an environmental educational tool, urban gardening resource, and healthy food access point for everyone from kindergartners to adults.
It features an outdoor classroom for 30 adults or 50 children, theme-based raised beds, fruit trees, native Iowa plants, and multilingual signage. Sprout is significant for the neighborhoods surrounding Drake because 97% of students K-12 qualify for free or reduced lunches. Fresh fruit and produce from Sprout are important for the students and adults in this neighborhood. Any student who learns or volunteers in the garden is able to take fresh produce home. Sprout also has a free mini pantry right outside the gate so that anyone can have fresh and safe food.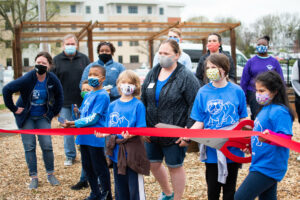 The major strategic partner in the project is the Gregory & Suzie Glazer Burt Boys & Girls Club. Each week Club youth plant, grow, and learn in the garden. This fosters interaction between Drake students, the BBGC, and the surrounding community by bringing different groups of students together in the garden. For example, Drake students usually volunteer to help teach the environmental curriculum to the BBGC students, which not only increases environmental learning for all parties but also fosters a sense of community.
Sprout garden isn't just for children we offer the use of our garden over the summer/fall for groups to come and volunteer. It's a good way to give back to the community while also building teamwork and can create a more open space to get to know people better.
Sprout was brought to life in the Summer of 2013 with the help of many community partners. Originally located on Forest Avenue, the garden was relocated fall of 2020 to its current, bigger, location on 30th Street. We are excited to see the continued growth each season will bring us!
Land Acknowledgement
Sprout Garden is on the traditional, ancestral, unceded land of the Báxoǰe (Bah Kho-je) or Ioway, Sauk (Sac), and Meskwaki (Fox) peoples – visit Drake's Land Acknowledgement Page for more information.